Mayor Kim Janey is considering more stringent coronavirus restrictions in Boston amid a continued rise in cases, particularly among the city's younger residents.
"I think it is troubling anytime we see an increase in activity and so we will continue to watch closely, so that we can adjust if we need to rollback some of the loosening of the restrictions that have already happened at the state level," Janey said Tuesday. "Right now I'm working closely with our chief to see if that is the direction we need to take."
More than half of the new cases in the past two weeks have come from Bostonians under the age of 29, Janey said Tuesday.
The city's positivity rate rose to 4.2%, up from 3.7%, which translates into over 170 cases per day. Boston reported 130 new confirmed cases for a total of 63,748 Tuesday. Two deaths were reported, bringing the total number to 1,341.
"I will work closely with our public health chief and the Public Health Commission to ensure that we are looking at the data closely, so that if we need to make any adjustments that we will do so," Janey said.
Janey also said she will work with Superintendent of Boston Public Schools Brenda Cassellius around "any adjustments that we need to make, if any, regarding school opening."
Meanwhile, Janey announced $50 million will be dedicated to the city's Rental Relief Fund, which she said is intended to help renters remain in their homes and help landlords who are struggling. The vast majority of the funds are federal dollars, according to city officials.
"We encourage tenants and landlords to communicate and work together during this challenging time," Janey said. "For those tenants who are not able to reach an agreement with their landlords, this money can help them make a move funds will be available for certain moving costs, as well as first and last month's deposits."
Distributed in amounts of up to $15,000, the funds will "make a big impact," Janey said, by helping tenants who "otherwise wouldn't be able to pay their rent."
In addition to rent payment assistance. The new funding will help families pay for utilities, including internet access, which Janey noted has been "crucial" during the pandemic.
Janey also addressed allegations of fraud against a former Boston police captain Tuesday, calling them "disturbing," and "unacceptable."
Richard Evans, 62 of Hanover, was arrested on charges that he collected more than $12,000 in an overtime pay fraud scheme at the department's evidence warehouse, federal prosecutors said Tuesday.
"The allegations of fraud announced today against retired police captain Richard Evans are disturbing. Captain Evans oversaw the critically important evidence control unit, making these charges even more troubling," Janey said. "Any fraud is unacceptable. It breaks public trust. It dishonors the thousands of officers who serve our communities every day with honesty, integrity and bravery."
Janey committed to uncovering and rooting out misbehavior among officers amid the overtime pay fraud scandal within the department's evidence warehouse.
Following the press conference at City Hall, Janey and Superintendent Cassellius were scheduled to meet with U.S. Secretary of Education Miguel Cardona Tuesday afternoon to talk about best practices for returning to in-person learning.
The three will participate in a roundtable discussion after Cardona tours the Tynan Elementary School.
Boston students grades nine through 12 made a partial return to the classroom Monday as part of a mandate from the Massachusetts Department of Elementary and Secondary Education.
Boston Public Schools received state approval to delay the return to full-time in person learning for K-8 students until April 26, at Cassellius' request. Until then, students will continue on their current learning model, officials said.
School teachers in the district are prepared to return to classrooms after April vacation, Janey said Friday, but said both Friday and again Tuesday that the city will continue to monitor coronavirus data.
Meanwhile, on Monday Janey called on the MBTA to restore full service and announced a pilot program to support employees in Boston's five Main Street Districts.
Through the Main Streets Free Public Transit Pilot, the city will give nearly 1,000 workers in those districts free Charlie cards pre-loaded with $60 for the period of March 29 through April 19. Workers will also receive free two month Bluebike passes. People can sign up online or text free ride to 866-396-0122.
Earlier Monday morning, the new mayor promoted budget director Justin Sterritt to the role of chief financial officer, replacing Emme Handy who's headed back to the Broad Institute. Drew Smith, the city's head of treasury since 2017, is the new deputy chief financial officer.
More Coverage on Mayor Kim Janey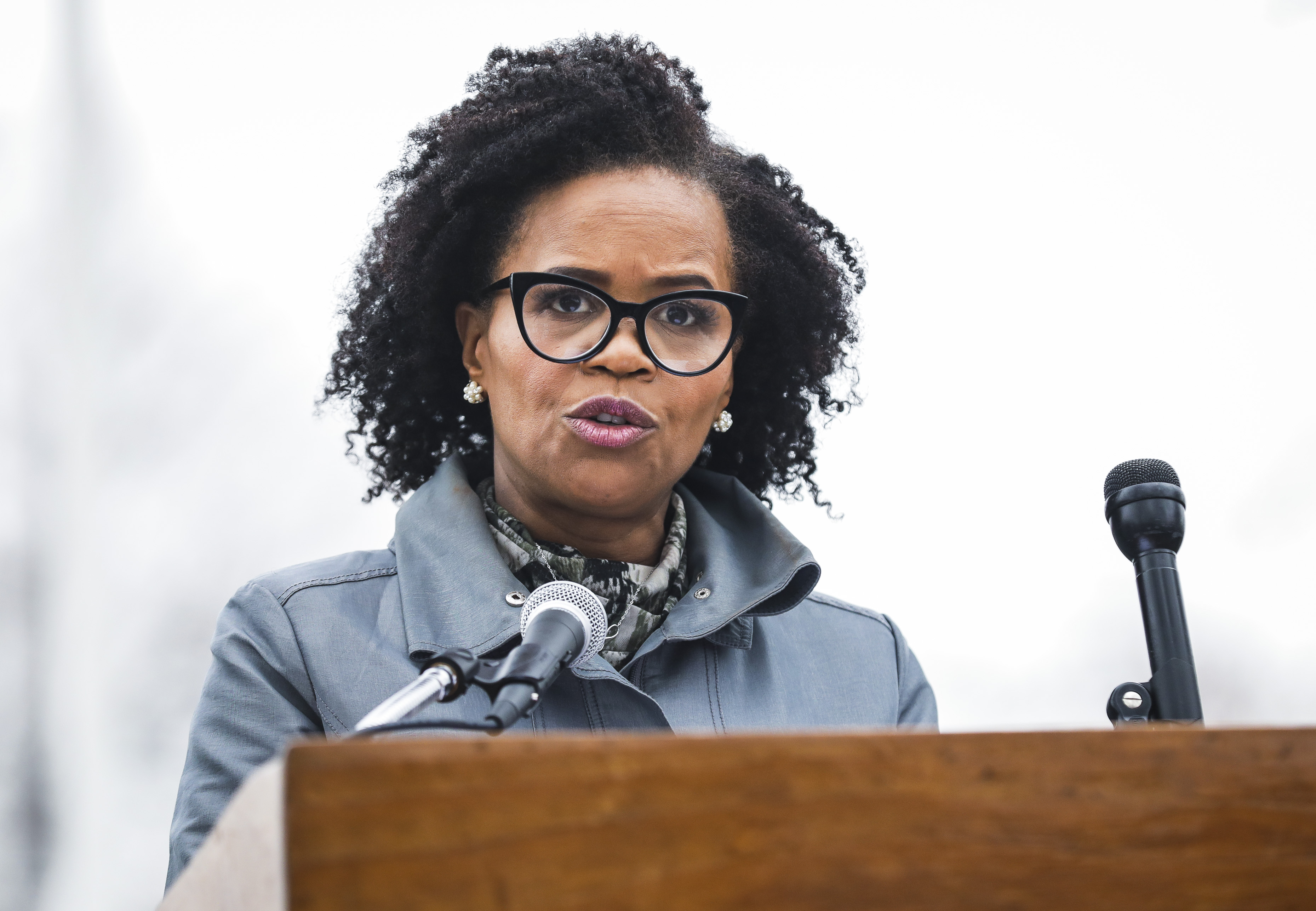 Read More
post